Showcasing Significant Scholarly Work
Submitted technical papers for SIGGRAPH 2018 adhere to the highest scientific standards and are chosen through a rigorous peer-review process. A prestigious international jury of scholars and scientists selects the most visionary, innovative and significant submissions for presentation. At the conference, Technical Paper authors provide brief overviews of their work in Technical Papers Fast Forward, and then get a chance to present their complete papers during one of the technical papers sessions.
Technical Papers are published as a special issue of ACM Transactions on Graphics. In addition to papers selected by the SIGGRAPH 2018 Technical Papers Jury, the conference presents papers that have been published in ACM Transactions on Graphics during the past year.
SIGGRAPH 2018 is a meeting of the most future-oriented tech minds, and the Technical Papers program is where the future truly begins to emerge. Come to learn, and come to present your own scholarly work — all are welcome to join the conversation!

Technical Papers First Pages
The first pages of all Technical Papers presented at SIGGRAPH 2018.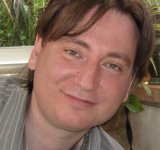 Technical Papers Program Chair